AGNI ROOM – HOT STUDIO
NBalance is one of only three yoga studios in the Middle Tennessee area that is equipped with a therapeutic infrared heating system.
This state-of-the-art system utilizes radiant heating panels that provide a comfortable environment by warming objects in the room instead of the room itself. This minimizes the intense, often uncomfortable, sensation experienced when entering a hot yoga studio that utilizes convection, or forced-air heat. Since most of the heat produced by the infrared panels is used to heat the body rather than the air, there is more opportunity for the beneficial effects of hot yoga to be experienced. Furthermore, infrared heat does not involve air movement like that of convection heat, thereby reducing the distribution of unhealthy bacteria, allergens, and dust. An additional design element in the NBalance yoga studio is special flooring that is slip-resistant, shock-absorbing, and anti-bacterial. In order to create the perfect setting in the studio, a humidistat maintains optimal humidity levels.
Studio flooring is soft, yet firm, and it feels amazing on the joints while creating a surface that is slip-resistant, shock-absorbing, anti-bacterial, and anti-viral.
Mirrors line three of the four studio walls to optimize proper alignment which not only helps to ensure physical safety but also to maximize the energetic effects of the practice. This studio lacks windows and natural light, and by utilizing dimmable, color-changing LED lights we have created a sensory deprivation chamber in which chromotherapy is used for deeper, more subtle layers of healing.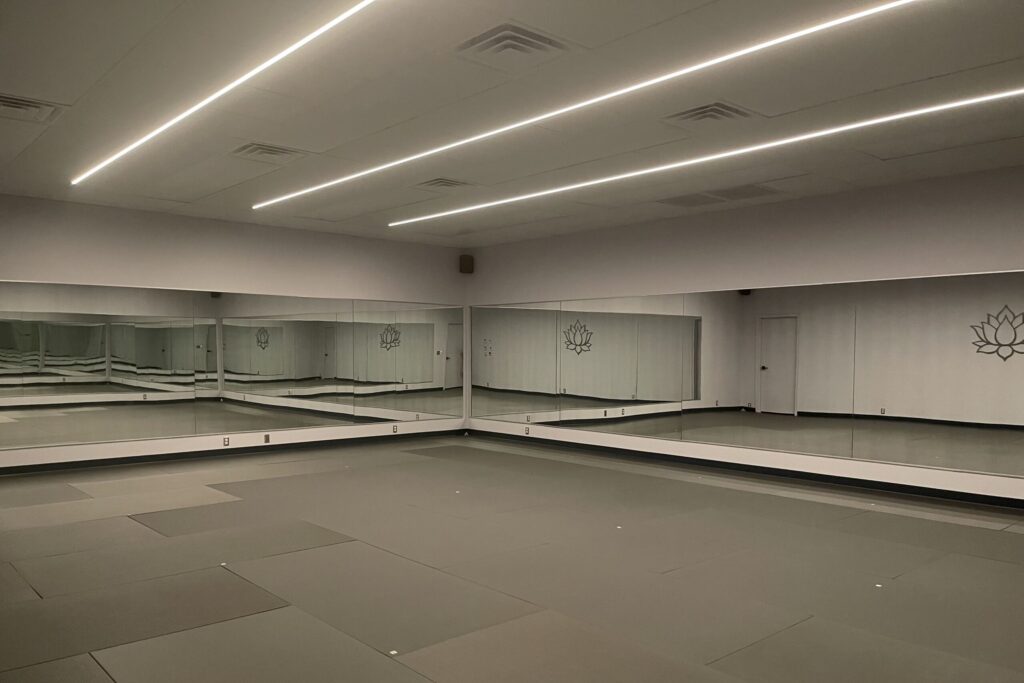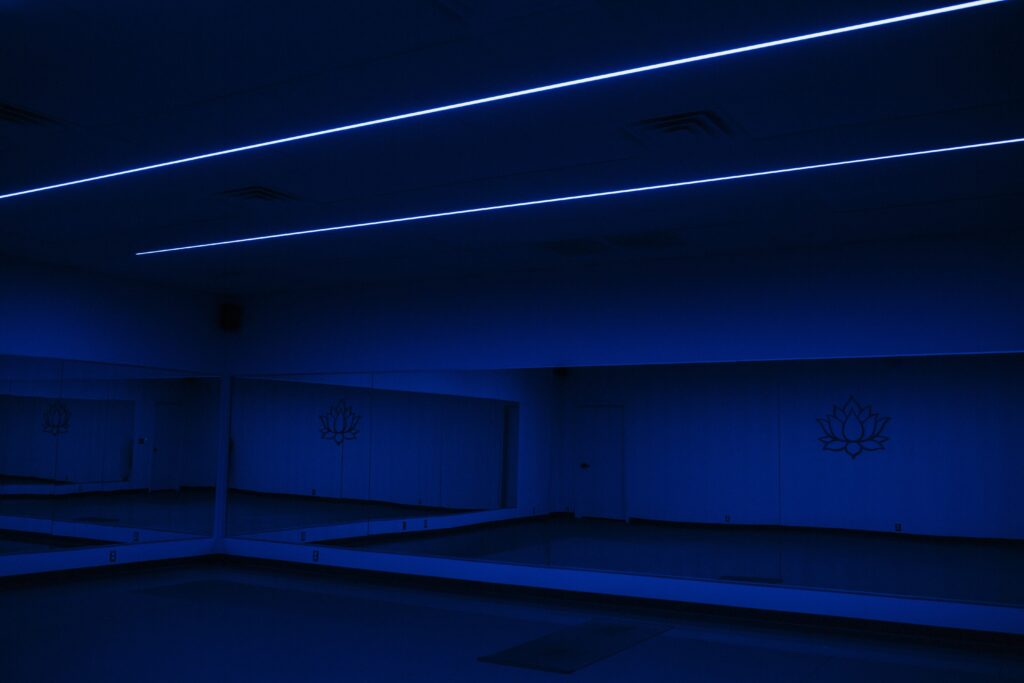 PRANA ROOM – UNHEATED STUDIO
Our PRANA room has a more traditional yoga studio feel to it with hard floors, no mirrors, no heat, and natural light. In addition, a Great Yoga Wall is installed here which creates a unique approach to increasing flexibility and strength by harnessing the power of suspension. Yoga Wall classes often incorporate a combination of approaches including a wall flow, TRX, and resistance bands for strength training, Barre, and suspension from the Yoga Wall for release in the low back, hips, and neck.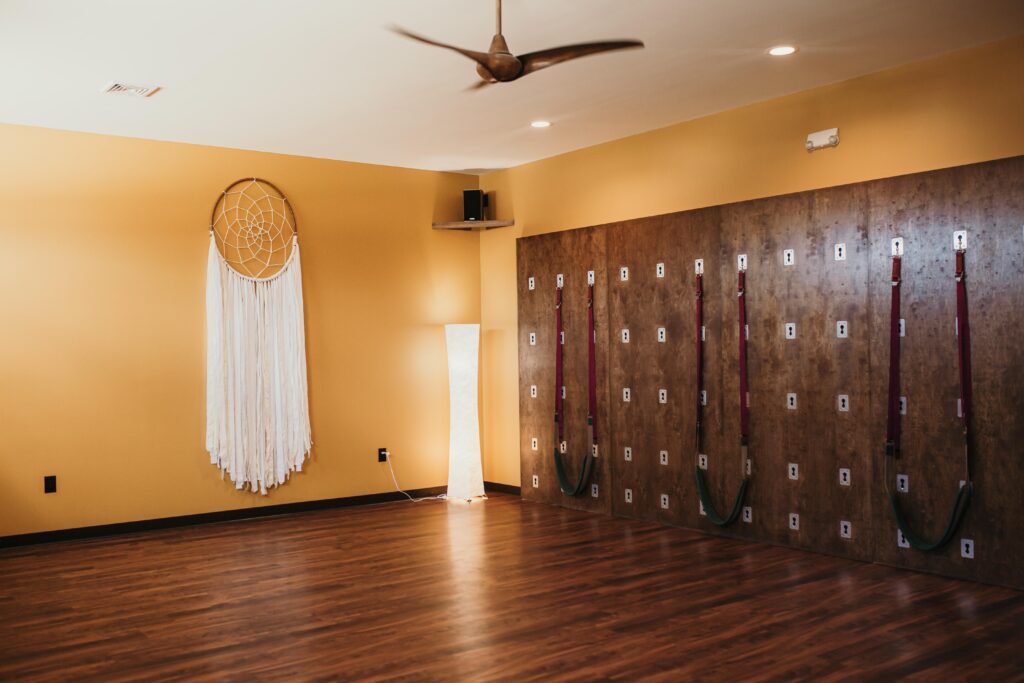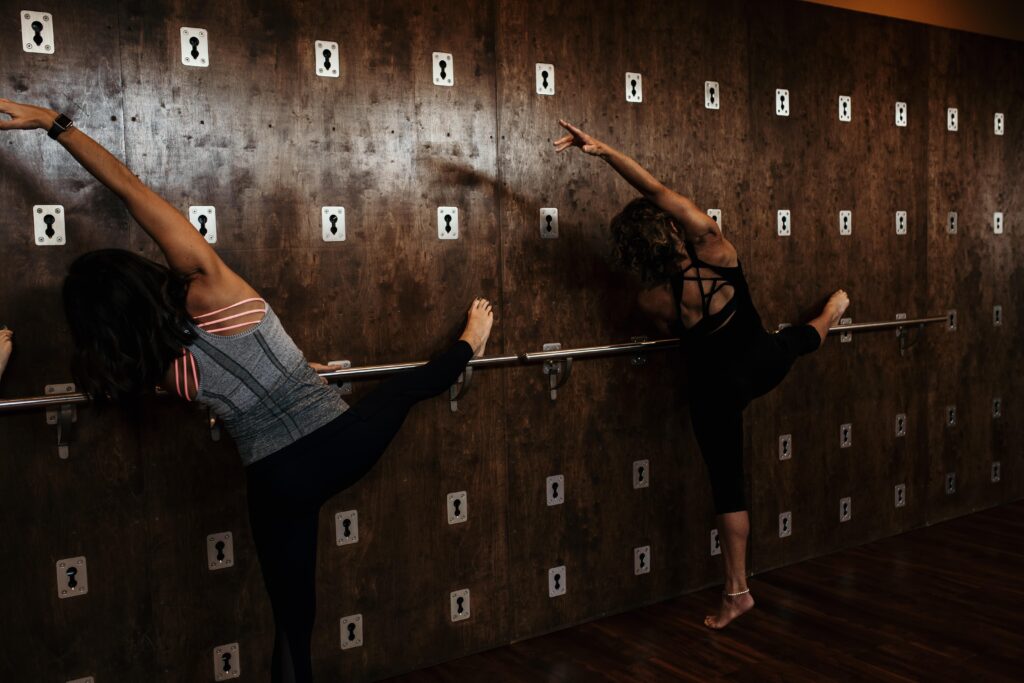 FITNESS ROOM
Our fitness room is designed to maximize a one-on-one approach to ensure that our clients do not get lost in the crowd and that all participants receive individual coaching that meets them where they are in their journey. It houses a SPIN studio and a space for functional fitness workouts that include TRX, medicine balls, dumbbells, Kettlebells, resistance bands, and much more to develop strength and endurance while burning calories. Rubber floors are easier on the joints and mirrors allow us to focus on proper alignment and form.